HERE IS A GENEROUS DONATION AND A FABLED STORY TO GO WITH IT..!
by Kim Armstrong Smith
"Mikey,
Mister D was the first DC-3 I ever jumped from…..what a rush! Those days at Sandwich with Roger, you, Bohr, Wes, Bennett, etc were the beginning of the best part of my life! Mark did something for me that I am eternally grateful for…….he gave my Dad a ride in Mr. D. !!!! My Dad was the coolest Dad ever…started flying Champs when he was just 16. He used to do buzz jobs over the Fox River Bridge in Ottawa when the students were walking home from High School. One of those students wore a bright red winter coat……..it was my Mom!!! He would watch for her!!! She finally agreed to marry him if he would stop it! They were married for 67 years. But I digress, one day they came to watch us jump at Sandwich….and I asked Mark if he would take my Dad up in Mr.D and he said sure.
I put my gear on Dad and briefed him on what to do in an emergency. After the jumpers were out, Mark told him to come up and watch from the cockpit….my Dad was THRILLED!!!!! Mark took time to talk to Dad about the controls…..what and why he was doing certain things………really made my Dad's day! He was practically skipping like a little kid when he got back on the ground! My Dad talked about it for years…..about how nice Mark had been to him, the whole experience!
THAT is the biggest reason I am so grateful for what you are doing……. it is like having a little piece of my Dad back. He died from Alzheimer's in 2013…..so I am happy to donate to rebuild Mr. D back together. This world would be a much better place if it had more people like you!!!!!! I have some old pics from those days that I will send to you……you can post/use/share them along with this email if it will help you. My Dad will be watching every minute of this rebuild…..just from a little different viewpoint! More money coming your way as soon as I can! Love you, my awesome friend."
Kim Armstrong Smith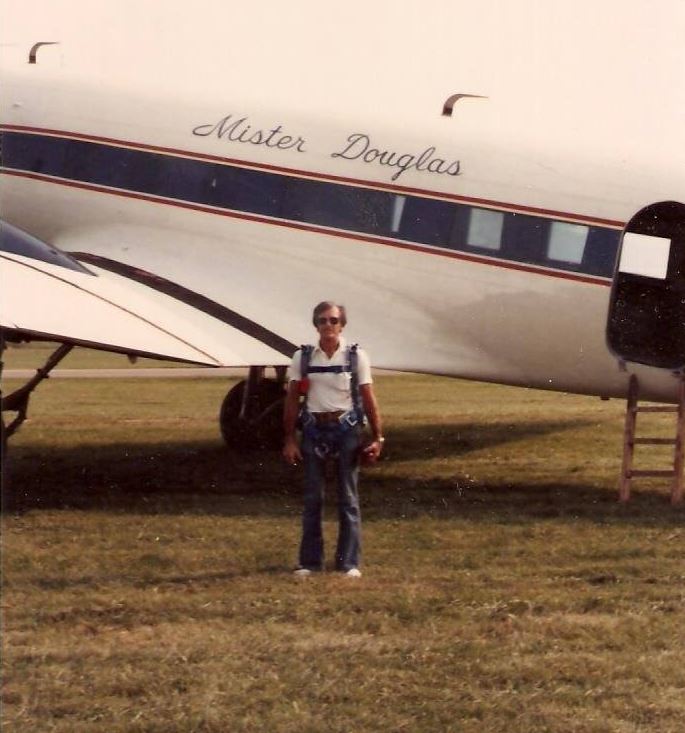 Thank you for posting this….very near and dear to my heart!
Hoping to donate more when possible….it's a great honor to be part of this restoration.  Signed Kim Armstrong Smith.